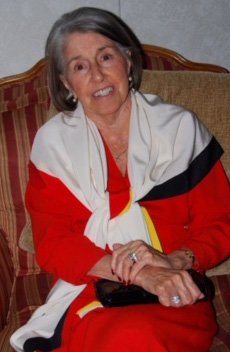 Obituary of Christina McDonald
McDonald, Christina (Oliver)
It is with bittersweet emotions we share the news that, after a long goodbye, our mother is finally at peace. Christina will be forever missed by her daughters, Catherine (Don Ludlow), Margot Neill (John Hall) and her son, Graeme. Her sister, Catherine Chown, will miss her terribly, and Herb Butcher will lovingly remember his cousin, "Sis". She was predeceased by our dad, Gerry, (2005), her devoted son, Ian (2015), son-in-law, David Neill (2008) and siblings, Betty White and Leonard Oliver.
Mom and Dad met and married when he travelled from the west to Brantford to serve as a flight instructor at No. 5 Service Flying Training School. They adored one another for over 60 years. Their 4 children remember a home filled with cousins, friends, the sound of mom's piano and excellent cuisine.
Nana was deeply loved and respected by her grandchildren Paige Steciuk (Gavin), Stacy Neill, Jon Neill (Jen), David Neill (Erin McNally), Andrew Neill (Darian Cowell), Margot Forbes (Kevin Pollard), Christie Nafziger (Jeremy), Jennifer McDonald, Katie McDonald (Nate Fullerton), Ali Wells (Brent), Cale McDonald and Paris McDonald. Oh, how we wish that her 18 great-grandchildren had had time to get to know her but we will share our many happy stories with them.
Her family is now free to remember the elegant woman with the beautiful smile, whom we will miss so deeply. The family is eternally grateful to the staff at Charlotte Villa for their loving care of our mother for the past 6 years. We can't say enough about the paramedics, emergency room staff and everyone on the Palliative Care Ward of the Brantford General Hospital. Once again, Dr. Amy Montour provided compassionate comfort and care to all of us.
If wished, donations to the BCHS Foundation would be appreciated and may be made online at www.beckettglaves.com.
Cremation has been arranged through the Beckett-Glaves Family Funeral Centre, 88 Brant Ave (519) 752-4331, and we will soon gather with our families to celebrate the life of our mom and those of Dad, Ian and David.
Miss you, miss you, miss you!
How we miss you, Girl!
There's a strange sad silence
'Mid the busy whirl,
Just as tho' the ordinary
daily things we do
Wait with us expectant, for a word from you.
A tree will be planted in memory of Christina in the Beckett-Glaves Memorial Forest.
Beckett Glaves
Funeral Home
88 Brant Avenue
Brantford, ON
N3T 3H3
P: (519) 752-4331
88 Brant Avenue
Brantford, ON N3T 3H3