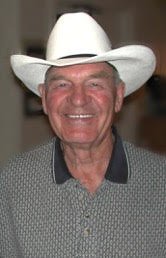 Obituary of Joseph Springall
JOSEPH ALFRED SPRINGALL
July 15, 1926 – February 28, 2018
It is with heavy hearts that the family of Joseph Alfred Springall announce his passing at
St Joseph's Lifecare, on February 28, Brantford Ontario in his 92nd year.
Joseph will be greatly missed by his wife of 25 years, Selma (Huculak).
Predeceased by his first wife of 46 years Elizabeth (Betty MacNeil).
He will be sadly missed by his four children, Dianne (Mike Lethbridge),
Joanne (John McCartney), Barbara (Bob Haines) and Joe Jr (Liz Opychany).
He was the proud Papa of Marty (Crystal) Miller, Lisa (Richard) Bethell, Kristy Hamilton (John Kostyk), Julie Olinik (Justin Leliever), Adam (Adriana) Szewczyk, Sarah Szewczyk and Allie (Mike) Honey. Papa Joe was a proud great grandfather to nine great grandchildren.
Survived by brothers Reggie, Lee and Ronnie. Fondly remembered by Selma's children,
Joe's step sons, Rick (Carol) Huculak, Dave Huculak and their families.
Joe grew up in the small fishing and coal mining town of New Waterford, Nova Scotia.
He met his first love Betty there, married and moved to the Brantford area to start a new life. They had a wonderful 46 years together, raising 4 children and having many grandchildren. Long after Betty's passing, he married Selma. Joe and Selma had a wonderful 25 years together at Turkey Point, then Tillsonburg and then Brantford. Wintering in Nokomis Florida.
Joe's love of country music, singing and playing guitar touched many people over his lifetime. He formed various country & western bands and performed throughout the Brantford area. Kitchen parties with family and friends was a way of life. He had a special positive outlook on life that was reflected on the many things he was successful at. Golf, carpentry, writing, painting, he even built his own boat, to name a few. Always making time for family and friends. His commitment to daily exercise and very long walks kept his mind sharp and body fit for 91 years of an amazing life.
His many years of hard work allowed him to retire 6 months of the year in Nokomis Florida, enjoying golf, shuffle board, cards, long walks and music with family and friends.
Joe and Selma lived at Charlotte Villa Retirement Home in Brantford for the past 4 years. The family is forever grateful for the care and compassion of the staff at Charlotte Villa, as well as the staff at St. Joseph's Lifecare. He left us in his sleep with no suffering, a beautiful way.
A celebration of his life will be held at BECKETT-GLAVES FAMILY FUNERAL CENTRE, 88 Brant Avenue, Brantford, Tuesday, March 6th, 12:30 pm.
Memorial Donations to the Alzheimer's Society would be appreciated by the family.
Beckett Glaves
Funeral Home
88 Brant Avenue
Brantford, ON
N3T 3H3
P: (519) 752-4331
88 Brant Avenue
Brantford, ON N3T 3H3