Memorial Forest
The Beckett-Glaves Memorial Forests were established in recognition of the severe depletion of our natural forests. Every tree that is planted in the forest is in memory of a loved one.
The Memorial Forest Program is a partnership project of the Beckett-Glaves Family Funeral Centre and the Grand River Foundation. In the Grand River watershed area, only six percent of the original watershed trees remain. A tree symbolizes strength, shelter, and durability. When one life ends, another begins. It is our hope that this program will provide a source of comfort and meaning to those of us who have suffered a loss.
The beauty of the trees,
the softness of the air,
the fragrance of the grass,
speaks to me.
The summit of the mountain,
the thunder of the sky,
speaks to me.
The faintness of the stars,
the trail of the sun,
the strength of fire,
and the life that never goes away,
they speak to me.
And my heart soars.
Chief Dan George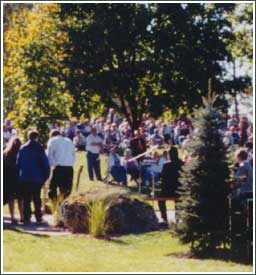 History -- A Tradition Takes Root
The forests were started in the Fall of 1985 by the late Gordon C. Glaves to commemorate the lives of Richard B. Beckett and G. Fred Glaves who died within five weeks of each other in 1983. Since that time thousands of trees have been planted in memory of loved ones.
Loved Ones Remembered
The current cost of participation in the Beckett-Glaves Memorial Forest
Program is $50.
$30 goes directly to the Grand River Foundation which includes:
a tree planted in the Grand River Watershed as part of their reforestation project.
a donation receipt for $30 issued by the Grand River Foundation to be used for tax purposes.
$20 is used by the funeral home to help fund the program which includes:
Order a Tree
a gold embossed memorial card of remembrance, and an information folder is provided to the next of kin, by Beckett-Glaves, on behalf of the purchaser.
a plaque of remembrance is engraved and placed on our Memorial Wall located in the chapel of the Beckett-Glaves Family Funeral Centre.
Beckett Glaves
Funeral Home
88 Brant Avenue
Brantford, ON
N3T 3H3
P: (519) 752-4331