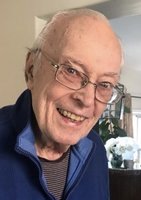 Robert William McBain
On November 18, 2019 at home, after a recent illness, Bob passed away at the age of 87 years. Predeceased by his loving wife Betty (June 23, 2018), Bob is survived by his five children, Valerie (Scott) Braid, Sue (Kevin) Perry, Ken McBain, Colin McBain (Jill Steinman) and Martha (Peter) Bellamy, his grandchildren Stephanie Braid (Drew Broda), Ian Braid, Leah Walter, Jenna Quinn (Leif Wynia), Dayne Perry (Katie Allen), Ben and Jack McBain, Madelyn, Erika and Grace Bellamy, as well as two great grandchildren Spencer and Charlee Walter. Bob was predeceased by his brothers Jack and Cameron McBain (Mary). As a professional engineer, Bob worked for Jaeger Machine Canada and Canadian Float Glass. At Bob's request a private family celebration will be held at a future date. Funeral Arrangements are entrusted with BECKETT-GLAVES FAMILY FUNERAL CENTRE, 88 Brant Ave. Brantford, 519-752-4331. Condolences for the family and, in honour of his late wife, donations to the Alzheimer's Society would be appreciated.
A tree will be planted in memory of Bob in the Beckett-Glaves Memorial Forest.
~Together Forever~

Our Dad
Our Dad, grandfather and great-grandfather was one of a kind. His wishes were to not have a traditional service nor a visitation. He did not want that attention. The thought actually terrified him. When we would say "but it's for us", he still held firm. That speaks to a side of him that was stubborn. However, he did like the idea of us having a family party with good food and a few glasses of wine. So that's our plan!
Dad loved his family. He wanted to hear about each of our families, careers and travels. As we gave him grandchildren, he followed their successes in sports, school and careers with great interest. One of the ways that he'd engage was to clip articles from newspapers and magazines and send them by mail or hand deliver them to whom they applied. We will miss those!
Cheers to our Dad, a lover of politics and history, a teller of jokes, a reader of newspapers, a watcher of television news (all day) and of course an evening Manhattan or glass of wine with Mom back in the day.
His joke telling is legendary. Those who are reading this may have heard a few. Those of us in the family heard them again and again. Sometimes they were even funny! Many of these were, how shall we say it, "not politically correct". That didn't stop him. One night, while dining at Valerie & Scott's home, he played a game at the dining table where he asked the group to name a subject and he would tell a related joke. We were so impressed when he did this for twenty minutes straight!
Dad loved travel. He had many opportunities to do so for business but also with Mom and extended family. Europe and New York were Dad's favourite destinations and right until his last days, shared stories of these trips. He remembered details so vividly and was known to describe what he ate in detail at a particular restaurant.
Over the years Dad shared his love with his canine companions – in the early years Snoopy, followed by Winston and finally Mikey. He loved them fiercely and spoiled them rotten! It goes without saying that ALL the dogs in our family will now lose a little weight without Dad dropping them a piece of buttered rye bread slathered with peanut butter!
Our Dad was incredibly generous. Many charities benefitted through the years from his giving spirit. As well, we all experienced that moment when the restaurant bill arrived. Best of luck trying to pick up the tab!
Once the love of his life passed away in 2018, Dad was not the same. He missed Mom terribly. After all, they had shared 63 years together. Dad moved in with Martha and her family and continued to enjoy the comings and goings of a very busy family. He loved to read his daily Globe and Mail and follow the news with an occasional sporting event added to the mix. The consummate armchair athlete, Dad especially loved his Blue Jays, but also cheered as the Toronto Raptors won their championship last season.
To those of you lucky enough to still have your parents in your life, cherish the time that you still have together.
Dad, you helped create amazing memories for us all. We will miss you but are happy that you are reunited with Mom. We know that's what you wanted.
We are touched by the support that we are receiving from all our extended family and friends. We feel truly blessed!