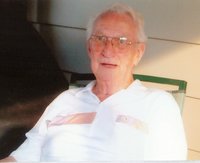 Eugene O'Brien
Eugene Edward O'Brien "OB"
It is with great sadness that we announce that OB was received into the arms of our Lord after a long and courageous battle with cancer at his residence on October 12, 2017. Survived by his wife Marie O'Brien (Bourgeois), two sons, David O'Brien, Daniel O'Brien (Michelle), two step-daughters; Theresa Rynard Trayler (Neil) and Donna Rynard Holtzhauer. Cherished grandfather of Carrie O'Brien, Rachel O'Brien, Demi Toms, Spencer Toms and Trevor Holtzhauer. Survived by many nieces and nephews. Predeceased by spouse Donelda Agnes O'Brien (Banks), three sisters; Katherine Smith (O'Brien), Mae Warburton (Kelly), Dorothy Ardito (O'Brien), four brothers; David Kelly, Patrick O'Brien, John O'Brien and Tom Kelly. Born, raised and educated in Toronto. Through his life work he worked in downtown Toronto, then later joined Trailmobile Canada Ltd. as a salesman in their Rexdale office. He was transferred to Calgary and five years later was transferred to Trailmobile's head office as National Sales Manager in Brantford. He continued to work for Trailmobile until his retirement at age 63, in 1990. OB was an avid golfer, and a member of Northridge Municipal Golf Course from 1972. He was involved in the executive of the men's committee during a number of his years at Northridge. He was also a dedicated ten pin bowler. When transferred to Brantford he joined the Men's league, and couples league at Star Lanes on Mary Street. During his early life OB would take part in teaching sessions and instructing young people to bowl. Thank you to Dr. Lee, Dr. Dickson, Dr. Dayes and Dr. Muhn from the Juravinksi Cancer Clinic, and our trusted family physicians Dr. D. Lowcock, Dr. Mangassarian, and Dr. Sing. Special thanks to Tracy- you were a special angel during his last days. Thank you to all the nurses who were there for us during OB's difficult journey. Friends will be received at BECKETT - GLAVES FAMILY FUNERAL CENTRE, 88 Brant Avenue, on Monday, October 16th, 2017 from 11:00-1:00 p.m. A Service of Remembrance will be held in the Chapel at 1:00 p.m. Cremation has taken place. In lieu of flowers donations to the Juravinksi Cancer Clinic, Canadian Cancer Society, Children's Wish Foundation or Stedman/Hankenson House Respite care would be appreciated. Online condolences, donations, service details and live funeral webcast will be available at www.beckettglaves.com.
A tree will be planted in memory of Eugene in the Beckett-Glaves Memorial Forest.